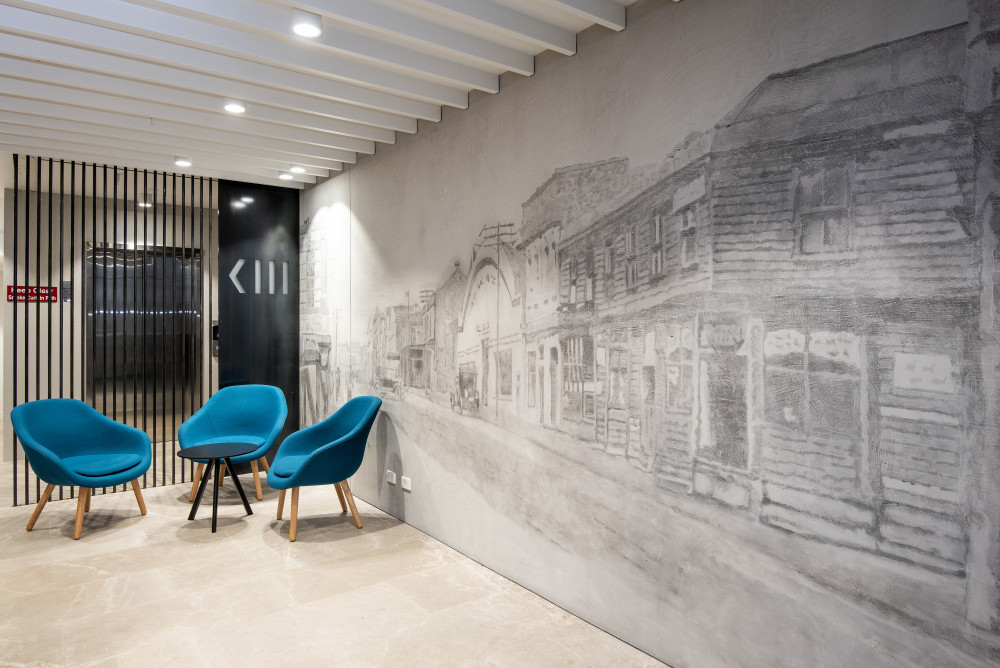 Auckland Artist, Katia Volkova was commissioned by K3 to bring it's reception area to life by painting a historic scene of Albert Street onto the reception plaster wall.
Katia began by researching historic images of Albert Street. She then created a montage photographic image which included the old Lumino dentist's building (85 Albert Street), original K3 building (83 Albert Street), and the Court House. The image was then projected onto the plaster wall and the outline sketched in.

"I wanted to create a feeling of space and light with the work. I wanted visitors
entering reception to feel as if they could walk into the image and stroll down old
Albert Street. I used the size of the wall and the perspective from K3's reception
door to help me create the illusion."
"I didn't want the painting to dominate the space, so I used a water colour technique and materials so that the image would become part of the plaster wall instead of standing apart from it, as a standard oil or acrylic painting finish would have".
"It is a very big work, so it took me weeks to compose, sketch and paint it. After the painting was complete I used a light sanding technique to age the image and then sealed it with a special sealant designed to protect it into the future".
"I hope when you visit K3 in the future you will walk into the reception area and let the image take you on a journey back in time, even if only for a few seconds."
Katia Volkova (021 423 008)